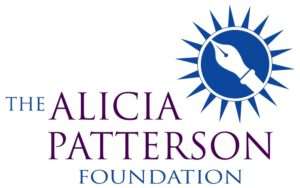 Awarding fellowships to journalists to pursue independent projects of significant interest and skepticism that will benefit the public.
58th Annual Fellowship Winners
Applications are now open for independant writing projects funded by the Alicia Patterson Foundation. The fellowship grants, either 12 month ($40,000) or 6 months ($20,000), allow you to do independant research and writing on a topic of your choosing. At least one fellowship is aimed at science and environmental coverage.
Alicia Patterson reluctantly became a newspaper publisher in 1940. Her husband wanted to keep her busy and she wanted to show her accomplished father that she could be as good a journalist as he was. From that timid start she created Newsday, the most successful new daily newspaper of the postwar period.
To foster, promote, sustain and improve the best traditions of American journalism, the Alicia Patterson Foundation awards fellowships to journalists engaged in rigorous, probing, spirited, independent and skeptical work that will benefit the public. The foundation will support journalism and will foster a community of journalists engaged in truthfully informing the public.
For over five decades, the Alicia Patterson Foundation has been giving top journalists the time away from daily deadlines to pursue stories of significance that have changed policies, illuminated problems and educated the public. The cost of in-depth reporting and the shrinking size of newsrooms has made the support of APF even more critical for an informed society.
"My being awarded an Alicia Patterson Fellowship not only ignited my book writing career, but propelled me to become a better researcher and journalist. It was a profound moment in my life, allowing me to examine a big and important story beyond the newsroom."
"The fellowship was vital to my own professional development as a journalist. It gave me the opportunity to delve deeply into a subject area and it also gave me the time to work on stories that turned into deeper, longform investigations."
"I was able to undertake the most ambitious journalistic project I have ever done, how China is changing Africa. I was able to get a nuanced, in-depth perspective from four countries—Ethiopia, Kenya, Tanzania and Zambia." I would urge any journalists, especially journalists of color, to apply."
Billions in clean energy incentives rely on raw materials from polluting corn and livestock. This report was made possible by an investigative reporting fellowship awarded by the Alicia Patterson Foundation. A version of this article was co-published by Circle of